welcome
Welcome in the webshop of Atelier Het Glazen Nest, with glass fusing art designed and made by Brenda Bleijenberg.
Brenda is famous in the Netherlands for her butterflies in glass fusing, small and large butterflies in beautiful colours and in a posture of being ready to fly off into the unknown...
As a symbol for the soul leaving the body, they are often used as memorial art.
('het glazen nest' translates as 'the glass nest')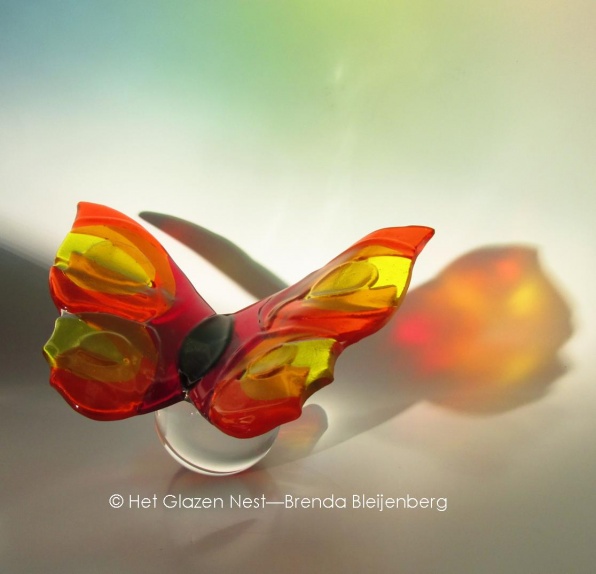 All art objects in this webshop are unique, and can be ordered directly from Brenda.
However, the price in Euros includes handling and shipping within The Netherlands, not abroad. So if you are interested in one of our glass butterflies or other objects, please drop us a note with the article number ("Artikelnummer") and your address at webshop@glazeniers-glaskunst.nl and we will calculate the correct price for you.
Please be so kind to switch to the Dutch version of the website to view the many items in this webshop.
Each description features a list of properties, in which you can find the measurements of that particular object and the "Artikelnummer" in case you have any questions.
Most items in this webshop can withstand any European weather condition, including heat and frost, so they can be placed outside in your garden or in a memorial area. And of course, you can give them a beautiful spot in your home.
If you have any questions about any of the items in the webshop, please feel free to contact us at webshop@glazeniers-glaskunst.nl.
Kind regards,
Brenda Bleijenberg | Atelier Het Glazen Nest
Oldenzaal, The Netherlands
Shopping cart
No items in shopping cart.